So a few weeks ago I was feeling like going thrifting but there was no $20 in my pocket. So what did I do? I purged my closet like no other. My rule of thumb is if i haven't worn it in like a year then throw it in the Platos Closet pile. I took 2 bags to Platos, they bought a few things and I got some $50 to go thrift shopping. And the left overs that they didn't buy are sitting in a bag at home until someone decides to have a clothing swap party with me.
My first stop after getting paid at Platos was of course my favorite local thrift store, the D.I. I went in and did my usual routine. Shoes, nick nacks, furniture, outside then CLOTHES. I was probably in there for a good 2 hours but guess what it didn't feel like it because I freaking love that place. I love searching and searching for little hidden gems. And in the end i went home with just a few things but GOOD things.
Oh hey there I am, did I mention this was the day before V-day that's why i look so festive in my nonetheless ALL thrifted outfit.
First find of the day. THEE ankle strap heels i have been looking for a whole century. Which my pinterest board will prove to you, insert pins that i've been pinning like this one, this one, or even this one.
Now they weren't that hot at first but I looked past it's ugly flower. And considering it's 100% leather and was only $3 I simply COULDN'T pass it up. Here's how i made her beautiful. I grabbed some left over gold studs I had a home and gave her a facelift. And WA- FREAKIN- LA she's now bangin' hot!
Then comes the most expensive item of clothing i have bought before. It was a ...... wait for it ....... a whole whopping $10. But I just couldn't pass it up. It was love at first sight. Again i had my pins in mind.
This little versatile dress will come in hand this summer/ spring.
$3 and i will wear it as a skirt and as a sun dress when i go swimming. Double duty for the win.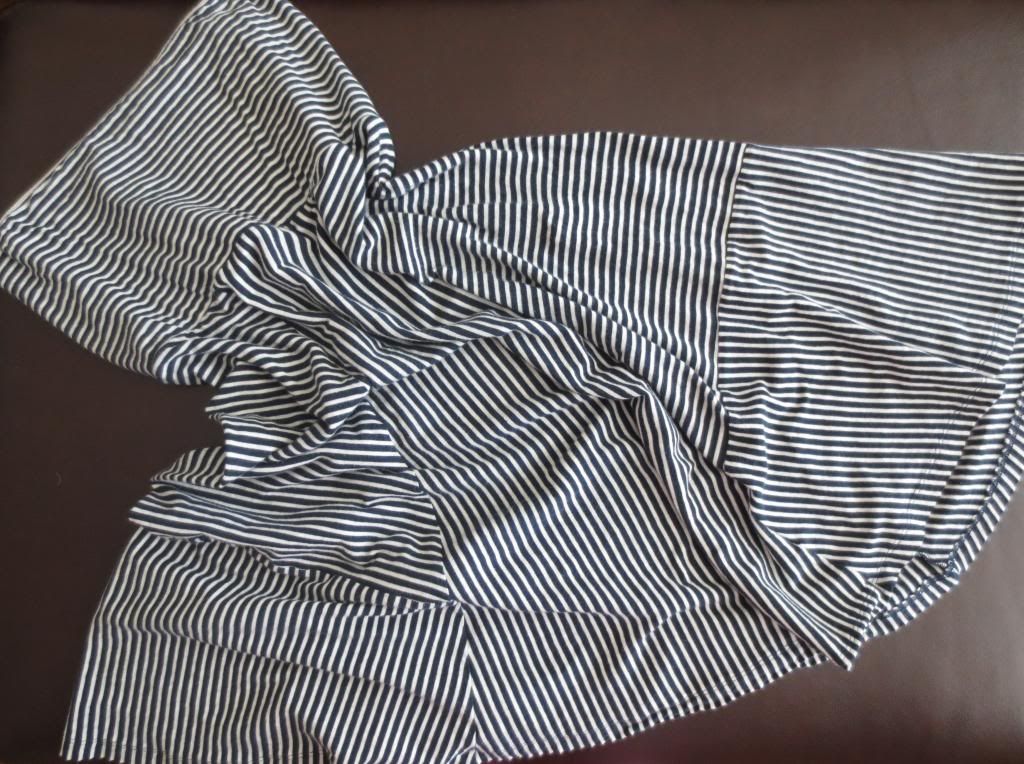 Did i mention thrifting is my favorite way to try new trends. Like the camo pants, which i think i'm in love. It goes right in the pattern pants craze. I'm all in it to give it a try and at $3 it's completely ok if i FAIL miserably at it. I have plans to skinny-fy them soon.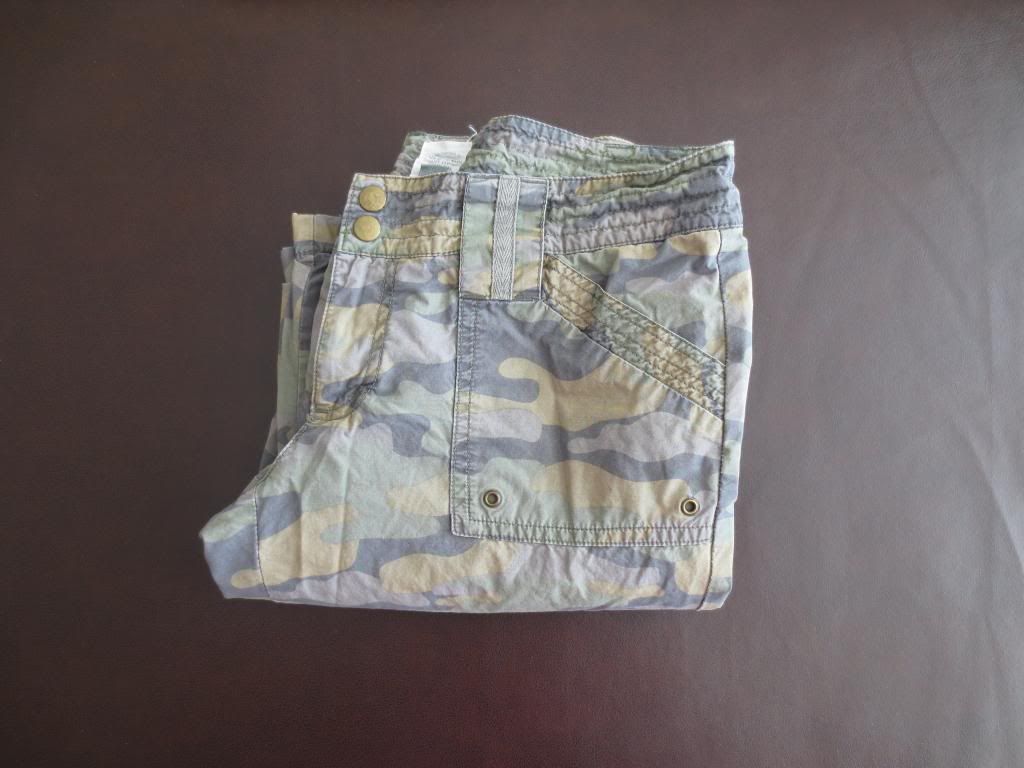 and lastly from that thrift trip was this cute little number. $1 people!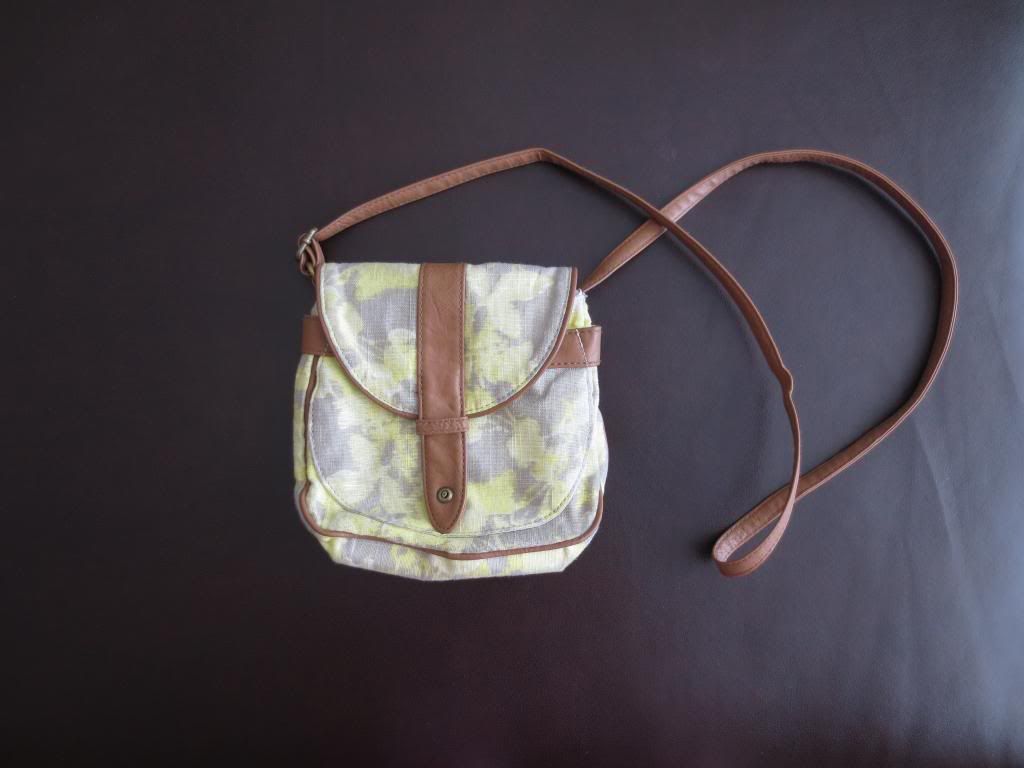 Overall I spent like $20 and some change at my little D.I. trip and i couldn't have been happier with my purchases. Life was good after that fun day.
Then Valentines came around and I had forgotten i had told my husband a sob story of how i wanted some change to go thrift shopping and didn't have any and what does he give me? This ... So thrifting is where I went again this time with him. Ahh so romantic right? He actually despises going with me but since we were together, hanging out on that saturday and I decided to go to Salvation Army, where he had never been before, he decided to be so kind and go with me. He actually liked it, even if he did say it was a little ghetto. This trip was pretty quick (husband is impatient) and minus getting my shopping cart stolen from me with some goodies, it was still a successful trip.
If you don't know about Salvation Army i'll fill you in. They are a normal thrift store with a bunch of old (or should I say vintage to be nicer?) stuff and they also buy all the junk that TARGET, yes my other most favorite place in the world, doesn't sell. Like Mens, Womens, Childrens Clothing, Shoes, Home stuff and accessories. It's like a mini cheapO target. This is why everything I got is target brand and brand stinkin new.
One can never have too many deer shirts.
$4
And one can never have too many cardigans.
$4 each
Cutes loafers to ever set foot in this earth.
$4
Yes i'm READY for spring as you can tell.
$5 each
And here i go again with the camo craze. This cute backpack was $2 because the zipper on the outside pocket is broken. Still going to rock it this summer.
This trip cost me $30 because on top of this stuff I got husband some things too. Like 3 ties for $0.50 each and a Rio de Janeiro t-shirt. He was happy while he sat on the dirty couches and waited for me to be done.
.... And then my thrifting HIGH still stuck around so i'll share with you my next haul soon.
Linking up here...
Color Blind: Thrifters Anonymous
Apron Thrift Girl: Thrift Share Monday
Green and Gorgeous: Thrift Scores