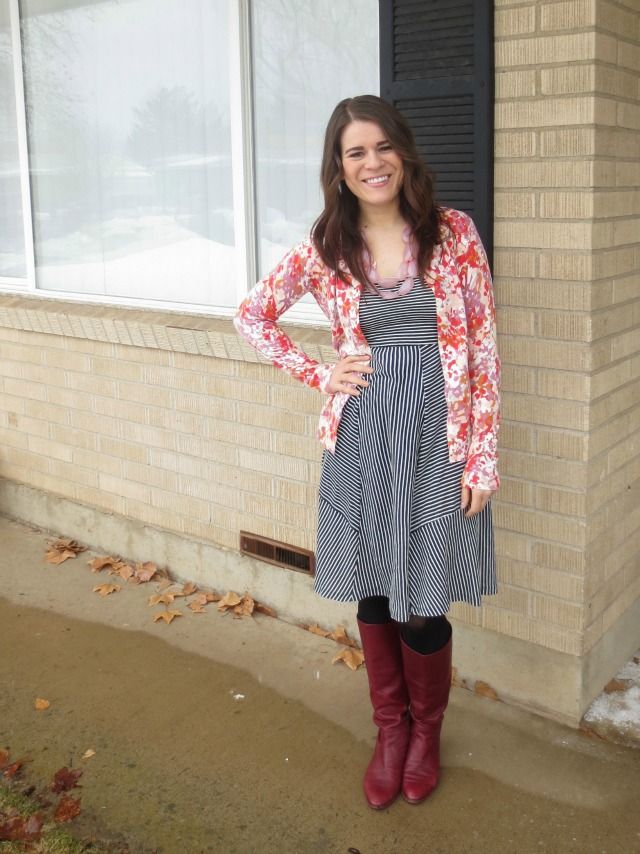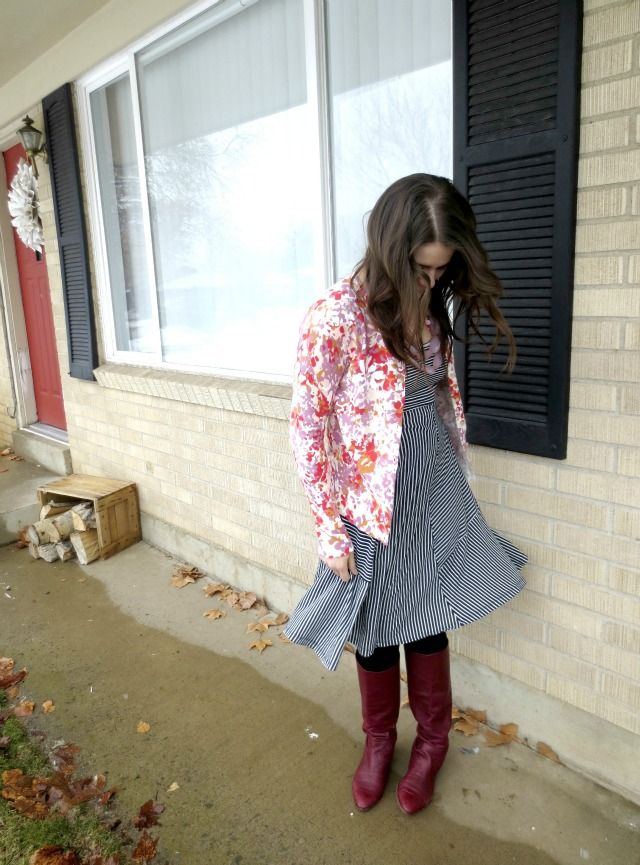 Wearing: Thrifted target cardigan, thrifted AE dress, and Thrifted red boots.
Saturday was the sunniest day I can remember having in a really long time. It was in the 50s, FIFTIES PEOPLE. For Utah that is a really big deal. I instantly got in the "It's spring I'm so happy mood." Then sunday came along and it was back to the really cold and wet weather and I went back to my "I'm depressed mood" at least it wasn't snow right? Trying to look on the positive side here. I still can't wear the fun skirts, dresses and sandals I have pictured in my head for spring. I guess I will just wear spring colors for now. And this fun cardigan was just the right amount of "spring" i was needing in my outfit that day.
If you need me i'll be over here working on being patient. It's one of the things i struggle with daily with EVERYTHING in my life. And now i just added the weather to that "must have patience list." Oh boy that list seems to always be growing and not shrinking. Oy!
Today i'm linking up with:
Lovely and Lonely: Style Statement tuesday
Lily Among Thorns: My style, your style link up
Apron Thrift Girl:
Thrift Share Monday
Color Blind:
Thrifters Anonymous
Lowercase Letters- Miscellany Mondays
Covered in Grace- Monday Meet Up
Sami's Shenanigans- Weekend Update
Watch Out For the Woestmans- Watch What I'm Wearing
Not Dead Yet Style- Visible Monday
Claire Justine oxox- Creative Mondays
Modern Modest Beauty- Sunday Style
The Things We Find Inside- I Love My Online Friends
Peacoats and Plaid- GFC Collective
Still Being Molly- YOLO Mondays
My greatest Hits- My Style Monday