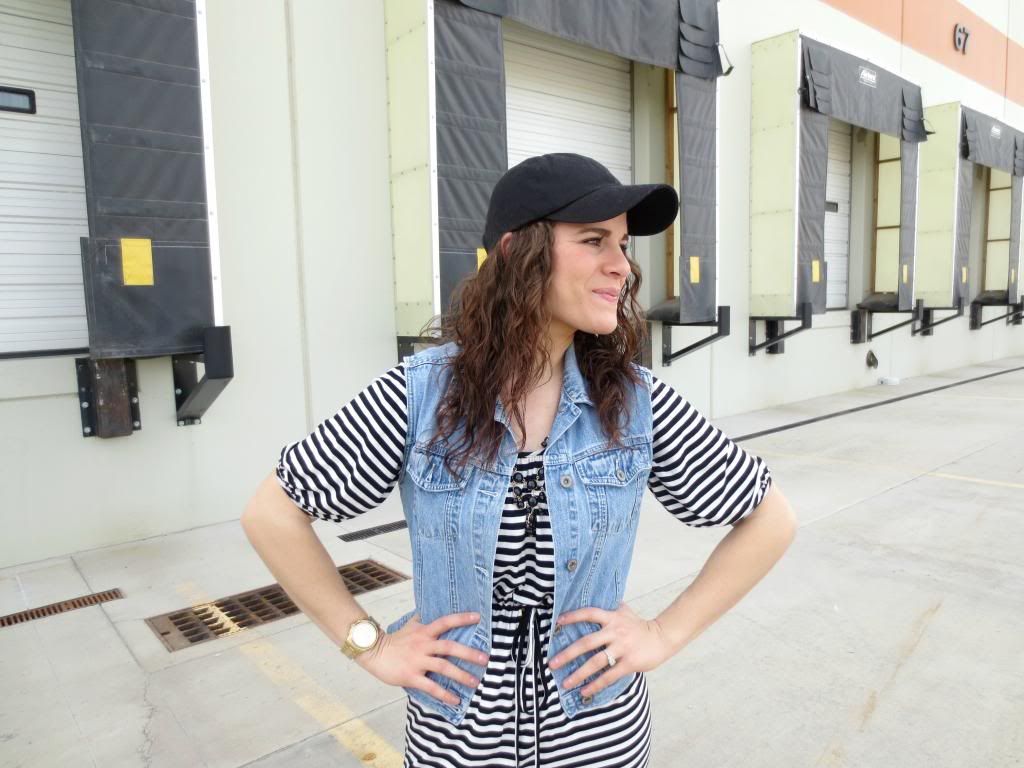 Wearing: Thrifted vest and black hat, tj maxx striped dress (gift), vans outlet shoes, groopdealz necklace, and michael kors watch (gift).
I wore this to a casual little day date with my husband. We headed to one of my favorite thrift stores, Thrift Town. They were having 50% off all clothing. To a thrifter, that is like a dream come true. I can't wait to show you guys what I scored. So many awesome things. But for this post I wanted to focus on the act of service we experienced that day.
We were in this thrift store, it was full of people. I had my shopping cart full of clothes and my husband had a few pieces, we were ready to try them all on. We headed to the dressing rooms, there are only 4 for the whole store. So we stood in line. As someone was walking out of one and I was getting ready to grab my bunch of clothes to go in it, this kid and his little brother rushed right in ahead of me. My husband and I looked at each other super annoyed, we had been waiting for a while now. We were getting ready to say something to this boy, who clearly had no manners. Something like, excuse me there's a line. But as we looked at each other and raged thoughts were going through our head we heard this boy talking. The little boy was trying on clothes and his older brother was standing outside talking to one of the thrift store employees. He mentioned how it was his little brothers birthday and that even though he just got out of job corp he wanted to get his brother something nice for his birthday. Clothes, because he needed some and ONE toy. My husband and I listened carefully and our hearts melted, we felt horrible for initially judging this kid for butting in line. He looked back and saw us and asked if we were in line, we said yes. He felt horrible and said he didn't realize it. He genuinely was sorry. I went on to try on my million pieces of clothes. And then we headed to check out. My husband and I were talking about how we are so quick to judge and be hateful to some people in our daily lives when in reality we know nothing about them. We headed to the car and my husband said, he said it was his little brothers birthday, and if he's here at a thrift store getting him a gift it probably means he doesn't have much to spend right? I said right. My husband then suggested to buy him a gift certificate for him to be able to buy his little brother's gift. I thought it was a great idea. My husband went in, bought the gift certificate and went and gave it to this boy. My husband said to him, you said it's your little brother's birthday right? The boy said yes. My husband said here's a gift certificate for you to buy his present. My husband proceeded to talk to this boy, he said, you said you just got out of job corp right? The boy agreed. My husband said, you're a good brother for taking the time to be here with your little brother on his birthday. The boy teared up and thanked my husband. My husband went back to the car, where I was, and told me the story. My heart was full. My husband's heart was full. We were happy, like we had just done something right. My husband then told me about a lesson he had at school about serving, his teacher said every time he taught that lesson he had experiences with serving right after it. My husband's teacher was right. This was one of those experiences I was needing in my life. I'm sure this experience blessed me more then the kid, because when we serve others we are the ones benefiting the most from the simple act of service.
God is good and puts us in places we need to be at the right time. We can choose to listen to that little voice telling us what to do or we can ignore it. All i can tell you is if you listen to that still small voice, you will be blessed in your hearts more than you can ever imagine.
and I feel like i should end this with an amen. haha ;)
Today i'm linking up with:
Lily Among Thorns: My style, your style link up
Apron Thrift Girl: Thrift Share Monday
Color Blind: Thrifters Anonymous
Lowercase Letters- Miscellany Mondays
Covered in Grace- Monday Meet Up
Sami's Shenanigans- Weekend Update
Watch Out For the Woestmans- Watch What I'm Wearing
Not Dead Yet Style- Visible Monday
Plane Pretty- Sunday Style
The Things We Find Inside- I Love My Online Friends
Peacoats and Plaid- GFC Collective
Still Being Molly- YOLO Mondays
My greatest Hits- My Style Monday